Android Wear
Wearable Widgets is available as a native app on Android Wear, bringing any home screen widget from your paired Android phone to your watch. It fully supports both round and square displays, though individual widgets will fit better on one or the other.
Installation
To get started, you'll obviously need one of these devices, and it will need to be paired to your phone using Google's Wear companion app. You'll also need to install the Wearable Widgets app on your phone; doing so should automatically configure your watch to receive widgets. Then just run our app on your phone to get things set up.
Using Your Widgets
After you've selected a widget or two (using the phone app), see them on the watch with the voice command "Ok Google, start widgets". If you prefer, you can also find Wearable Widgets in the touch menu of the watch, alongside its

icon in the "Start…" app list.
Once started, you can swipe horizontally through the widgets you've configured, and tap or swipe vertically on the widgets themselves (as supported by individual widgets). After you've left the app – either by swiping off to the the left, or by letting the watch timeout to its low-power mode – the device returns to its default watchface/notification mode. You'll then find a Wearable Widgets notification on the watch to make it easier to reopen the widgets without having to burrow through the watch menus again.
Uninstalling
If you want to remove Wearable Widgets from your watch, simply uninstall the app from your phone.
Widgets as a Watch Face
Watch face support on Android Wear is currently in public beta, meaning that there are still a few issues that we're working out. This has been a remarkably challenging feature to implement, and while it mostly works most of the time, there are some aspects that you should be aware of before using it (see below).
With version 2.8+ of our app installed, just long-press on your existing watch face and select Wearable Widgets. If you have multiple widgets in WW, the last widget that you had open on the watch will appear as your watch face, so you can switch between them by opening the WW app on your watch.
Note that you can't switch between widgets directly from the watch face (you need to open the WW app and switch there), nor can you tap or scroll the watch face widget (as you can when it's running interactively). As far as we can tell, Android Wear doesn't support any touch interactions with watch faces at all; touch events go directly to the OS. We are looking into a workaround for this, but it probably won't be available in the near term.
Battery Use
Wearable Widgets works by sending an image of a widget from your phone to your watch over their shared Bluetooth connection, and it's unavoidable that this is going to use more power (on both sides) than a simple, self-contained watch face. We're working hard to minimize this as much as possible, but only so much is possible. If you want to have the benefit of a widget on your watch, this is one of the tradeoffs.
Having said that, there are a few things that you can do to cut down on battery use:
Adjust the update interval. You'll find this in the WW phone app, under Settings > Wear watch face settings, and we encourage you to select a value that makes sense for the widget you're using as a watch face. For example, if you're using a weather widget that only updates its forecast once an hour, there's no sense in updating the watch more often than that.

Even for widgets that do update frequently, do you really need to see every update on your watch? Increasing the update interval from 5 seconds to 10 seconds will cut battery use roughly in half – and increasing it to 30 seconds will cut it by a factor of 6.

On AMOLED wearables (currently only the Samsung Gear Live), select a widget with a lot of black. AMOLED screens use no power for black pixels, so the battery use between a mostly-black widget and a mostly-dark-gray one is actually significant. We're looking into adjusting contrast automatically in the app, but until this happens, it's up to you.
Try turning off Always keep widgets running, on the main WW Settings page. This causes a few widgets to update incorrectly (which is why we say try), but if it works for your widgets, it should reduce power consumption.
Does your widget really need to be cropped? This is another of the app's Settings, and while it is required for some widgets to fit well on the watch, others work perfectly fine without it - and it is CPU-intensive. Experiment with this setting on your particular widget: if you can live without it, your battery will benefit.
Connection Required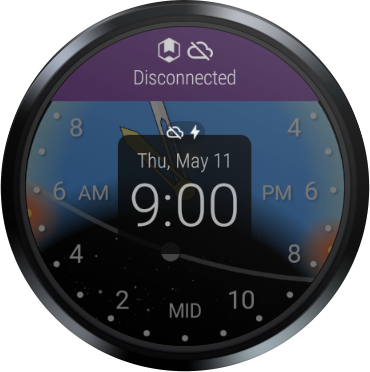 Given the nature of Wearable Widgets, an active connection between your phone and watch is an absolute requirement for your widgets to work. If that connection is lost (say, if your phone is out of Bluetooth range of your watch), your widgets will stop working until the connection is restored. There's no getting around this, and you need to decide if this limitation is acceptable for the widget(s) you want to use as a watch face.
We have added one feature to mitigate this issue somewhat, and it's something we call a backup watch face. When the Bluetooth connection is lost, WW will display a message saying so – and by default, it will also show the current time. The idea here is that even without Bluetooth, your smartwatch should at least still function as a watch. If you don't want the backup watch face, it can be turned off in the Wear watch face settings on the WW phone app.
Notification Underlay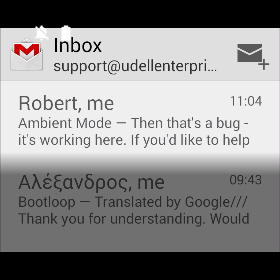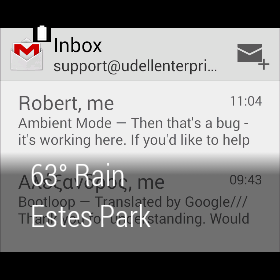 If you're using watch face support and are seeing the bottom half of your watch face being "grayed out" – see first Gmail screenshot at right – that's a feature, not a bug.
It's a feature that improves the readability of any notifications that may be showing on top of the watch face. We call it a "notification underlay" – see the second Gmail screenshot. If you regularly use your watch with notifications in ambient mode, you can turn this feature on: open the WW app on your phone, and go to Settings > Wear watch face settings > Show notification underlay.
Early Days
Above all, you need to keep in mind that these are early days for both Android Wear and its interface with Wearable Widgets. There are going to be issues, and some of them may not immediately be solvable. That's not to say that we won't do our best to fix problems as they arise, but you need to be patient and work with us. If you find a problem, please email and tell us about it – don't just sit and complain.
One last thing to remember is that all third-party watch faces on Android Wear are currently unofficial; Google has not released an API for it, and although they publicly stated that it would be released with Android 5.0 (Lollipop) in November 2014, this has not yet happened. We didn't want to just keep waiting, so we've pushed ahead – but along the way, we've come to realize that one reason it isn't official is because some aspects simply don't work right. We've done our best to work around these areas, and will continue to do so.
Thank you for your support!