Samsung Gear
Note: in the first half of 2017, Samsung stopped accepting updates to the Wearable Widgets client applications for most Gear watches. As such, we are no longer able to make any improvements to our apps on Gear, or make them available for newer devices. Older versions of Wearable Widgets remain on the Gear app store, but are not available for all devices, and cannot receive any further updates.
The content below is from when Gear was a supported product, and is being kept available for reference purposes only. No attempt is planned to keep it updated.
---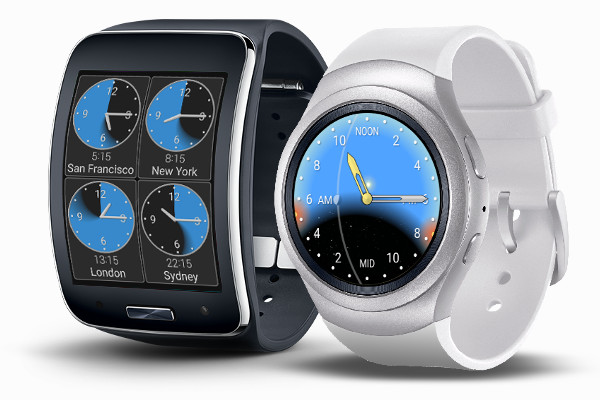 Get the home screen widgets from your phone on any of the Gear line of full-function smartwatches. Widgets are available both as an interactive watch app and as a clock face on-device. We support the following Samsung watches:
Gear S, S2, and S3 (when linked to a phone)
Gear 2 and 2 Neo
Galaxy Gear 1 (with Tizen update)
However, please be aware of the following Gear compatibility issues:
If you have a Gear S-series watch, you'll find that that Wearable Widgets only works over Bluetooth, not WiFi nor LTE. This is a platform limitation on non-Samsung apps.
The native widgets on the Gear S and S2 are not supported. These use a completely different tech than our other apps on the watch, and would require a complete rewrite. However these widgets are supported on the Gear S3
Wearable Widgets is not compatible with the Gear Fit series. Again, this is an issue of what app technology the device supports.
The Gear S2 transfers data from the phone much more slowly than other Samsung watches. This means that the first time you view a given widget, it will take longer than any of us would like.
If you have the Gear Live, you'll need to use our Android Wear interface instead.
Installation
First, you'll need to have the Wearable Widgets app installed on your phone in order to select and configure your widgets. It's available either for free download from Google Play (with in-app purchase for multiple widgets), or for purchase from Samsung's GALAXY Apps (which includes multiple widget support). This app is where you'll go to get your widgets set up.
You'll also need one or both of our watch apps installed to receive the widgets on-device. The easiest way to do this is to open the Samsung Gear app (on your phone) and search for Wearable Widgets in its Samsung Gear Apps market. This should return the following results:
Wearable Widgets Watch Face for Gear, for using a widget as a clock
Wearable Widgets for Gear, for viewing your widgets on-demand as an ordinary Gear app, or to the right of the watch face on the Gear S3
Note 1: Be aware that there are different editions of each of these apps for different Gear models. Make sure you install the one that mentions your model (S2, S3, etc.) in the title.
Note 2: Occasionally, the search function in the Gear Apps store can be unreliable - and unfortunately, there's not a lot we can do about this. Installation of the watch apps from outside the Gear Apps store isn't supported, so our only advice is for you to contact Samsung about the problem, and hope that they'll fix it at some point.
Note 3: the use of non-Samsung phones with older Gear watches (pre-S2) isn't a supported configuration. There's just no good way to install our smartwatch apps for this kind of setup, and it's too small of a corner case for us to devote resources to it. Samsung does support the S2 and S3 beyond their own phones, however, so that configuration is OK.
Yes, that's a lot of notes! Samsung doesn't make Gear app distribution easy.
Use
Once the app is installed, either launch the interactive app from your Apps list on-device, or select the watch face by long-press. [On the Gear 2, you'll change watch faces by going to Settings > Clock.] Either way, the widget(s) you've chosen on our phone app should then be shown on your watch.
If you have multiple widgets, just swipe left and right to see them all in the interactive app. To switch between them on the watch face, first tap the watch to "wake it up". Small arrow buttons should appear near the bottom of the screen; simply tap them to change which widget is active.
Uninstalling
After uninstalling Wearable Widgets from your phone, you may need to remove it separately from your watch. You can do this from the Samsung Gear app (on your phone): under Home screen styler > Clock, tap the "trash can" icon in the title bar, then tap the red minus icon next to Wearable Widgets. Although it may not immediately disappear from this screen on your phone, this should uninstall it from the watch.
History
The following table lists the updates that both our Gear apps (interactive, and watch face) have had. Note that the Date for each release is when it was submitted to Samsung's Gear Apps store; their approval process adds some additional delay (typically 1-3 weeks) before an update is publicly available.
Update History for Interactive Gear App
Version
Date
Summary of Changes
4.1.1
23 Aug 2017

For Gear S3: rejected by Samsung
Add additional check for existence of handheld app

4.1.0
13 Aug 2017

Rejected by Samsung
Add "Open app" button to on-watch widget (Gear S3 only)
Bug fixes and stability improvements

4.0.2
27 May 2017

For Gear 2, S, & S2: rejected by Samsung
Resubmit to Samsung Gear Apps after rejection (no code changes)

4.0.1
3 May 2017

For Gear S3
Improve wake-from-ambient behavior

4.0.0
28 Apr 2017

Only released to beta
Add on-device "widget" on Gear S3
Overhaul UI displayed when not showing widgets
Numerous bug fixes throughout

3.0.2
7 Mar 2016

Resubmit to address availability problems on Samsung Gear Apps store (no code changes)

3.0.1
18 Jan 2016

Resubmit to Samsung Gear Apps as Standalone app, for availability on non-Samsung phones (no code changes)

3.0.0
3 Jan 2016

Add support for Gear S2
General stability improvements

2.0.2
16 Nov 2014

Rejected by Samsung (never released publicly)
Resubmit to Samsung Gear Apps after rejection (no code changes)

2.0.1
25 Oct 2014

Rejected by Samsung (never released publicly)
Resubmit to Samsung Gear Apps after rejection (no code changes)

2.0.0
7 Sep 2014

Add multiple widget support

1.0.0
14 Jul 2014
Update History for Gear Watch Face
Version
Date
Summary of Changes
4.1.1
23 Aug 2017

For Gear S2 & S3: rejected by Samsung
Add additional check for existence of handheld app

4.1.0
13 Aug 2017

Rejected by Samsung
Remove requirement to tap before scrolling widget on S2 and S3
Bug fixes and stability improvements

4.0.3
27 May 2017
4.0.2
3 May 2017

For Gear S2 & S3
Fix some additional bugs in the 4.0 beta

4.0.1
30 Apr 2017

Only released to beta, and only for Gear S2 & S3
Fix bug in Ambient Mode support

4.0.0
28 Apr 2017

Only released to beta
Add support for Ambient Mode (Always-On Display) on Gear S2 and S3
Overhaul UI displayed when not showing widgets
Numerous bug fixes throughout

3.0.9
1 May 2016

Resubmit to Samsung Gear Apps after rejection: tweaked internal XML, no user-facing code changes

3.0.8
22 Mar 2016

Resubmit to Samsung Gear Apps after rejection (no code changes)

3.0.7
16 Mar 2016

Resubmit to Samsung Gear Apps after rejection (no code changes)

3.0.6
7 Mar 2016

Rejected by Samsung (never released publicly)
Resubmit to address availability problems on Samsung Gear Apps store (no code changes)

3.0.5
3 Feb 2016

Rejected by Samsung (never released publicly)
Change unable-to-connect message per new guidance from Samsung

3.0.4
3 Feb 2016

Resubmit to Samsung following mistakes made by certification team

3.0.3
1 Feb 2016

Rejected by Samsung (never released publicly)
Change unable-to-connect message per new guidance from Samsung

3.0.2
21 Jan 2016

Rejected by Samsung (never released publicly)
Resubmit to Samsung Gear Apps after rejection (no code changes)

3.0.1
18 Jan 2016

Rejected by Samsung (never released publicly)
Resubmit to Samsung Gear Apps after rejection (no code changes)

3.0.0
3 Jan 2016

Rejected by Samsung (never released publicly)
Add support for Gear S2
General stability improvements

2.2.1
6 Oct 2015

Resubmit to Samsung Gear Apps after rejection (no code changes)

2.2.0
5 Sep 2015

Rejected by Samsung (never released publicly)
Improve reconnection reliability

2.1.0
23 Feb 2015

Reduce power consumption when screen off
Change icon on BT disconnected clock

2.0.0
2 Feb 2015

Rejected by Samsung (never released publicly)
Disable lateral-swipe on clock face
Fix bug: Backup watchface clock not working
Add support for forthcoming v5.2 of main WW app

1.1.0
1 Oct 2014

Fix bug: time zone change on phone not immediately reflected on backup clock face

1.0.2
19 Sep 2014

Resubmit to Samsung Gear Apps after rejection (no code changes)

1.0.1
19 Sep 2014

Resubmit to Samsung Gear Apps after rejection (no code changes)

1.0.0
7 Sep 2014